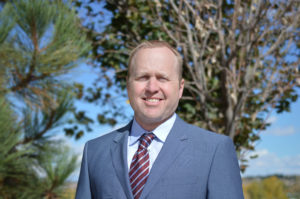 (Denver, Colo.) – February 21, 2018 – Saunders Construction, Inc., a leading construction manager and general contractor in Colorado, is proud to announce that David Martino has been promoted from Vice President of Finance to Chief Financial Officer. A Colorado Certified Public Accountant and member of AICPA, Martino will bring to bear nearly 20 years of experience, including two years at Saunders Construction. In his new role, he will lead the accounting and finance departments for all wholly-owned entities of the Saunders organization to provide a full continuum of real estate and construction services.
"It is with great pleasure that we appoint David as Chief Financial Officer at Saunders Construction," said Greg Schmidt, President and CEO of Saunders. "David has done an exceptional job managing the accounting and finance aspects of our business, and we are confident that he will continue to lead these teams to success as CFO."
Prior to joining Saunders Construction in 2016, Martino held the titles of Vice President/Controller, Director of Accounting, and Senior Audit Associate in a variety of industries including public accounting, residential construction, resort, and oil and gas.
Martino holds a Bachelor of Science in Accounting from Illinois State University. He is an active member of the American Institute of Certified Public Accountants, Good Shepherd Catholic Church and School, and a committee member of Saunders' Building Confidence in Kids charity program.
As Chief Financial Officer, Martino will continue to develop and lead Saunders' accounting and finance department through employee empowerment and engagement. David Alberts, Saunders' previous Chief Financial Officer, remains with the company in the role of Senior Vice President working on special projects and risk management functions.
"I am honored to serve as the CFO of Saunders, building upon the tremendous accounting and finance organization developed by David Alberts, and to draw upon my experience with growth-oriented companies to continue the success of Saunders as one of the most respected commercial builders in the Rocky Mountain Region."
Headquartered in Englewood, Colorado, Saunders Construction has over 600 employees and is currently working on more than 30 projects, valued from $1 million to $150 million in construction costs, in Colorado as well as several other surrounding states.
About Saunders
Saunders serves the commercial building industry as a full-service general contractor, design-builder and construction manager. A leader in the Colorado construction industry since its inception in 1972, Saunders' experience includes a wide range of project types. Saunders is one of the region's largest general contractors and is the recipient of more than 100 industry awards for its construction excellence, employee achievements and community contributions.  In addition, Saunders is a member of the Citadel Group – an alliance of seven regional construction-related companies with operations in 19 cities. For additional information, please visit www.saundersinc.com.