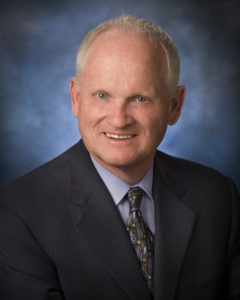 (Centennial, Colo.) – Jan. 16, 2018 – Saunders Construction, Inc. is tremendously proud to announce that company founder, Richard "Dick" Saunders is being inducted into the 2018 Class of the Colorado Business Hall of Fame.
"I couldn't be more honored to receive this prestigious award alongside several longtime friends and colleagues," said Dick Saunders. "It has been my life's work to create a company that considers its culture the most important aspect of the business and to offer gainful employment to over 500 people in Colorado."
The 2018 laureates will be inducted Thursday, Jan. 25, at the Colorado Business Hall of Fame Dinner at the Hyatt Regency Denver at Colorado Convention Center. Laureates are selected for their enduring and innovative professional contributions to Colorado, inspirational and ethical acumen, and philanthropic endeavors.
This well-deserved honor comes after 46 years of growing Saunders Construction into one of the state's largest and most reputable general contractors. Saunders is known for its numerous high-profile projects including current projects such as the renovations of Denver International Airport's Great Hall and Denver Art Museum North Building. In 1972, with 13 years of experience in the industry, Saunders followed his entrepreneurial spirit and founded Saunders Construction, Inc. His foundation for the business was honesty, performance and accountability – defining characteristics of the company to this day.
As chairman and primary stockholder of Saunders Construction, Saunders has overall decision-making authority with regard to company strategies and fiscal policy. He provides strong leadership to the board of directors and remains active and up-to-date in all aspects of the company's significant activities.
Saunders lends much of his time and money to better the communities in which we live and work. He has served on as many as 14 boards at a time for most of the past 40 years, generally promoting children, education and civic causes.
Saunders serves on the boards of Colorado UpLift, ACE Scholarships and the Foundation for Urban Youth Ministries. Saunders is an honorary board member of Mental Health America of Colorado, board member of the Institute for Children's Mental Disorders and is a lifetime trustee of the Colorado Ballet board.
He has received countless awards and honors for his charitable work, including the Volunteers of America Humanitarian Award, the University of Denver Evans Award, the Samaritan Institute Award and the Kempe Children's Foundation Award for Community Service.
​
Saunders is married to Jeanne Portmann Saunders. He has three children, two stepchildren and five grandchildren.
Each year, the state's past and present business leaders are named to the Colorado Business Hall of Fame by the Denver Metro Chamber of Commerce and Junior Achievement-Rocky Mountain.  A black-tie event honors these legends of the business community in Colorado with proceeds from the event supporting the work of Junior Achievement and the Chamber.
Colorado Business Hall of Fame laureates are part of a league of outstanding individuals who have made legendary contributions to the free enterprise system. Through their actions and accomplishments, the Colorado Business Hall of Fame laureates provide inspiration for the next generation as they take the reins of leadership in the years to come.
About Saunders
Saunders serves the commercial building industry as a full-service general contractor, design-builder and construction manager. A leader in the Colorado construction industry since its inception in 1972, Saunders' experience includes a wide range of project types. Saunders is one of the region's largest general contractors and is the recipient of more than 100 industry awards for its construction excellence, employee achievements and community contributions. In addition, Saunders is a member of the Citadel Group – an alliance of seven regional construction-related companies with operations in 19 cities. For additional information, please visit www.saundersinc.com.